Network Open optical has established strong relationships with national optical domiciliary companies
This role involves visiting Nursing and Care Homes and individuals in their own homes, so you must have a sympathetic approach and empathy as most patients are elderly and some suffer from dementia.
---
Network Open working in partnership with:

We are working closely with one of the UK's leading Optical Domiciliary Companies to provide quality home care optical staff.
The Outside Clinic offer flexible hours and flexible roles - all over the UK.
---

Visioncall provides home eyecare to those unable to attend a high street optician unaccompanied due to physical or mental disability.
They offer opportunities on a nationwide basis, Monday to Friday only, and excellent salary package/benefits.
---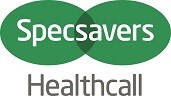 Our continued partnership with Specsavers Healthcall enables us to offer a variety of job opportunities working for an established company, allowing you to enjoy the support of a knowledgeable and well-trained team - not to mention all the equipment you need to excel in the role.
---
Independent Domiciliary Care Companies
We receive vacancies from independent domiciliary companies on a daily basis, so please contact us to find out more or check our jobs page for the latest vacancies.
---